Writing and Submitting Original Spec Scripts for Current TV Series
---
The TV Writers Vault accepts submissions of original current series spec scripts written for review by member industry executives scouting samples of new writing talent. The following is a detailed overview of TV spec script writing, providing advice, strategy, and resources for reference.
Although most Agents and Producers review spec scripts to determine talent for hire on a separate project, the WGA (Writers Guild of America) requires that every season, all episodic series producers must hire a mandated minimum of freelance writers each season. Following is taken directly from the WGA Hiring Provisions-
---------------------------------------------------------------------------------------------
Writers Guild of America
FREELANCE WRITERS HIRING PROVISION
ARTICLE 20.B.3.(e) & (f)
Companies with episodic television shows and once-per-week serials must hire freelance writers each season for each series, depending on their network order.
------------------------------------------------------------------------------
Instructions:
Registering your current series spec script for review is simple. Once you've familiarized yourself with the information and guidance we provide, and have completed your sample script for a current series, visit our Project Registration Page and select the "Current Series Spec Script" option under "Genre" selection. This will open a smaller window to select from a complete list of current series titles (ie; The Office, 30 Rock, etc.). Select your series and enter the episode (Project) title, logline and synopsis of the script. Executives who are interested will request the complete script for review.
Advice & Strategy:
One of the critical devices a new writer must have when entering the television writing world is a good slate of sample scripts written for current TV series. Agents need this ammunition to convince producers of their writer's skills, and producers need to see that the writer can execute a story idea within the parameters of a current show. Writing spec scripts can be fun. You're familiar with the show's premise and characters, and that gives you a jump start on capturing the style and tone of the show.
Write a spec for a current hit show, nothing dated. Its fine if the show has been on the air for a number of years, such as "The Office" or "My Name is Earl", but is still fresh and running hot. Agents typically require their clients to have 2 sample spec scripts. Show diversity, even within a specific genre. Writing a side-splitting sample episode of "The Office" will illustrate how you can capture a very specific style and format, but when you're selling yourself as a writer you'll want to widen your scope and deliver broader samples of more dramatic comedy such as "Ugly Betty" or "Desperate Housewives".
Format:
Formats are similar to that of a screenplay (action and character descriptions, and dialogue), but structure will vary depending on the length of show and genre. 30 minute series for network are 22-27 pages (allowing for commercial breaks), while the same length show for cable (uninterrupted) can be 30-45 pages, depending on the content and pacing. The same ratio applies for 60 minute episodes. One-hour Network series are typically 45-50 pages, and one-hour cable network series (often single camera productions) can be upwards of 70 pages.
You may also want to purchase the Final Draft Screen and TV Writing Software that has a unique "TV Template" feature, assisting writers with proper template formatting for up to 50 current TV shows. Variances are minor, but the guidance is a nice help.
TV Scripts for Reference:
Examples of Episodic Scripts. (viewable in PDF)
Writers Guild of America:
WGA Articles on Episodic Writing for Television (viewable in PDF)
Recommended Software & Books for Writing Your Spec Teleplay:
The Warner Bros. Television Writers Workshop Guide: In this essential guide, Abby Finer and Deborah Pearlman of the Warner Bros. Television Writers Workshop reveal insider tips and tricks aimed at paving the way to better scripts by new writers. The book focuses on all aspects of writing for television, from the definition and importance of sample material to what it takes to be a successful TV writer. [Click the image link below to purchase]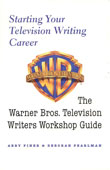 Final Draft Screen and Television Writing Software: The most widely used software by top professionals writing all formats of television. Final Draft also has a unique "TV Template" feature, that assists writers with the proper template for up to 50 current TV shows. Invaluable for any writer creating their spec scripts.[Click the image link below to purchase]