TVWritersVault.com All Rights Reserves ®



DISCOVERY Channel's "Saw Dogs" Series Creators and Star | TV Writers Vault Interview
When the TV Writers Vault was created, we set out to promote Writers and "Idea People"...Artists. But we never thought we'd have a part in promoting such an extreme artist as a Chainsaw Sculptor! This is just how cool TV has gotten, and another reason we love reality TV.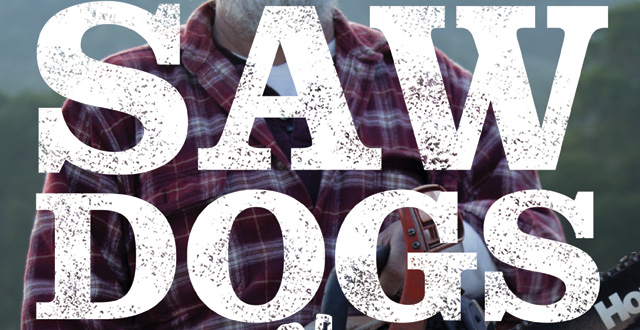 Discovered at the TV Writers Vault, Master Wood Sculptor, Steve Blanchard now stars in his own reality series, "Saw Dogs", on the Discovery Channel, much thanks to the determination and true collaboration of his creative/business partner Mike Harris who created and pitched the project with Blanchard. The show follows Blanchard teaming up with other super-talented chainsaw sculptors as they race to deliver mind-blowing works of art commissioned by high-end clients.
Set against the breathtaking landscape of British Columbia, its a refreshing visual escape from other programs and fun to watch. They've had a full season produced, and just recently saw back-to-back episodes premiere on prime-time Discovery Channel, with another run scheduled to air June 10th. The series has also been sold globally. We sat down with Mike and Steve to learn about their experiences creating and producing the show.
Update: Series has been sold for broadcast to TV4 Sweden, as well as Discovery International's pacific rim territory. Season 1 (10 episodes) has previously aired on OLN, Discovery's Velocity Channel, and Discovery Channel prime-time (U.S.). Back-to-back episodes re-airing on Discovery Channel June 10, 2012.
---

Scott Manville: Steve, Mike, congratulations on bringing "Saw Dogs" to television, and delivering a really cool show. First, Mike, I'd like to ask you... Do you have any background in pitching projects? How did you come to identify Steve's talents and his world as something ripe for a reality series?

Mike Harris: Thanks, Scott. Steve and I have been friends since 2003 and we only began discussing a show about the chainsaw carving industry in early 2010. So although I was excited by Steve and his world, a reality show did not immediately come to mind. And though I have a good amount of sales experience, I had no familiarity with pitching any media project. The Writer's Vault really provided us outsiders with a "no pressure" platform to present our idea.

SM: Steve, your craft and talent as a Master Carver and Chainsaw Sculptor is mind blowing! What you and your team create on the show is very impressive. You're a true artist, but we also see that you're a very focused businessman. How has having a television show documenting your world impacted your business? Has it been a positive experience?

Steve Blanchard: To be honest it has been much more difficult than I thought it would be. Where before I could focus on my job as a wood carver without distraction, now my mind is being pulled in two directions; the filming aspect, and the carving aspect. They are two totally different creative processes demanding equal attention. Finding a balance is not at all easy. It's a hell of a challenge, especially at my age.

SM: And how long have you been a chainsaw sculptor? Have you practiced any other methods of sculpting, or other art mediums?

Steve: About 28 years. I did a little drawing when I was a kid, but that kind of faded out. Also played guitar and wrote songs. I still fool around with that. I had tried carving with chisels and could not figure out how to make a living at it. But, what I like to think of as power carving really did fill the void. I also have always had an entrepreneurial spirit which surely has had a lot of influence in how my career has developed. That, and hooking up with Mike who is a good friend and a 'pit bull' of a salesman.

SM: Congratulations on the Discovery Channel premier. We also understand you had a full season already produced and aired. With this move to Discovery, is a second season in the works?

Steve: Negotiations are ongoing.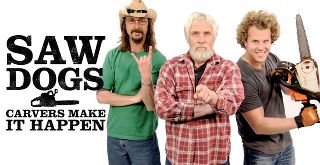 SM: I'd have to say you and your crew are the furthest thing from being "Hollywood" as one would hope, and that's a good thing. Do you get any grief from your buddies for having a show? Or do you get good support from the guys who "knew you when"?

Steve: I'm not a real social character. I have a small group of people that I associate with and we have fun with the idea. Other than that, I'm a hermit.

SM: Mike, From what you and Steve created, are you happy with how it evolved into the actual show delivered?

Mike: I am happy with the evolution of the series. I still watch the show frequently, and I can honestly say it improved with each episode.

SM: Can you tell us what your life has been like since creating and selling "Saw Dogs"?

Mike: No major changes in my life as of yet..

Steve: Still waiting for the reality to kick in. Love the checks!

SM: Ryan is a crack up on the show. With him having such amazing mentors like yourself and the others, does he have a future in your field? Is he really pursuing that?

Steve: Absolutely. Ryan really dove into the carving world and has really committed himself to and sure to become the best carver possible. He carves every day and is just getting better and better. It was fun to watch him soak up the influence and mentor-ship of the Saw Dogs. You'll be amazed by his progress come next season.

SM: For new writers and creators pitching concepts for reality-based shows, what advice can you share with them about the process and possibilities for success?

Mike: In regards to contracts, invest in a good lawyer. And never forget, true collaboration requires compromise from all parties involved.

SM: Would you recommend the TV Writers Vault for others pitching reality shows and documentary series?

Steve: Yep. It saves a lot of walking. The TV Writers Vault was a great idea, and I have a feeling I will be using it again.

Mike: I would definitely recommend the TV Writers Vault. Steve and I received a huge return on our $40 investment!

SM: Well, I also know you both invested a lot in the production, turning yourselves inside out to make the show work. Are you inspired to pitch any new shows? Or is this it for you in the world of docu-reality series?

Mike: I have just recently posted another pitch on the TV Writer's Vault and will do the same with a game show I am currently developing.

Steve: This has been quite a ride so far, a great opportunity, and I have learned an awful lot. And now that I got my foot in the door I will certainly take advantage of it. I have a couple of ideas I would like to develop and I am keeping my eyes open for the next SAW DOGS! Thanks for all the compliments Scott, and for the TV WRITERS VAULT.

SM: What has been the most challenging part of this journey so far?

Steve: Waiting! It seems like I have been waiting every since this process started. Now I'm waiting for the second season nod. It never ends!

Mike: I agree with Steve. The waiting can be extremely frustrating. You're on the network's clock and it's running far slower than mine.

SM: And what's been the greatest part?

Mike: The satisfaction of being part of something that for the most part has been embraced by those who have tuned in.

Steve: I am very grateful to have been the first in my industry to get a show on the air. Can't beat that. Even if all we got was a first season, we were there first.

SM: Thanks for sharing your time and thoughts with us, guys. Best of luck with "Saw Dogs". We'll be tuning in!

Mike: No problem, Scott. Thanks again for providing an awesome resource to aspiring writers/creators.

Steve: Are we done, I have a carving to finish!
---
The TV Writers Vault welcomes new project submissions from anyone with a great story, life, subject, or format that would make good TV. Register Your TV Show Concept HERE

To catch up on recent success stories and other shows discovered at the TV Writers Vault, click HERE